Mowing
Height
Cool season grasses found in Indiana such as bluegrass, perennial ryegrass, and tall fescue look their best and handle stressful times of the year best when mowed around 3.5″. We recommend mowing your lawn at least at 3.5″ or as high as your mower will go if lower than that.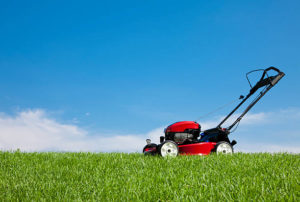 Timing
Avoid mowing the lawn during drought conditions as this places additional stress on the grass plant increasing the chance of permanent damage. It is best to mow the lawn frequently enough that no more than 1/3 of the grass blade is removed at a time. If you are mowing at 3.5" you would want to cut it when it reaches 4.5" in height. This may require 2 cuts per week in the spring and only every couple of weeks in the summer.
Clippings
Mulch your clippings and leave them where they lay. This will return valuable nutrients to the lawn and will not cause any problems if you mow regularly.